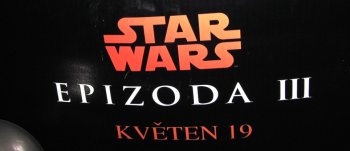 I bet this poster for Episode III was printed in the U.S.A.
I bet Fox asked what is the name of the fifth month in Czech and got the (correct) answer: "Kveten".
I bet nobody at Fox is interested in Czech grammar. Otherwise they would know that "Kveten 19" does not mean anything (possibly it might mean "May of 2019", with a bit of imagination). The correct way of writing "May 19" in Czech is "19. Kvetna".
I bet people from Fox think they are smarter than us.