It seems there is Millennium Falcon (or something very similar to Han Solo's ship) in Revenge of the Sith: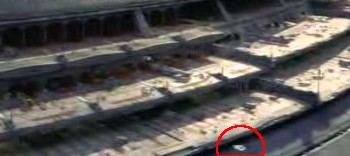 Of course this screengrab is crappy but it can be seen fairly well on the big screen, flying from lower-right corner of the screen a few seconds after Obi-Wan says "Another happy landing" and right before their transport lands in the Coruscant dock.
In the case Jack Valenti is reading this, I do not have a pirated copy. I was translating the movie for the Czech release and thus got the (crappy) version on my harddisk.