I guess I should explain (mainly to Czech readers) the apparent conflict between existence of this blog and my much-publicized interview for one of Czech computer magazines where I said "I use the word 'blogger' as an insult".
"Internet diaries", e.g. often updated pages with someone's thoughts and experiences, are as old as Internet itself. Maybe even older because I remember reading stuff like this on BBS and Fidonet. Hell, even I worked on something similar sometime around 1995. Those diaries were written because the author had something he wanted to share with the world. Usually, it was A) interesting, B) funny, or at least C) "funny" because autor sincerely thought it was interesting or funny even if it wasn't. Also, the author usually had some faint idea of how to spell.
I am not sure about the etymology but Wikipedia
says
that the word "weblog" first appeared in 1997 and "blog" two years later. Thus, at least since 1999, there were bloggers, meaning "famous/interesting people who write blogs". The term "blogger" (let's put quotes around the word) I use as an insult, refers to people who use the opposite approach: "I am famous/interesting precisely
BECAUSE
I write blog".
Now, I hate generalizing. There are definitely many people who call themselves bloggers and are famous/funny EXCLUSIVELY because of their blogging activities. But I insist they are in minority, even more so in the Czech Republic. Most of the "bloggers" proudly wear the "blogger" title as if it meant something more than "diary writer" and they even think some journalistic privileges apply to them (although, of course, not any of the journalistic requirements). Their "blogs" are strictly of the C) variety (see above). For example, one of them threatens to sue anyone who publishes his real name (which he originally used himself on his "blog") his photograph (which he originally used himself on his "blog") or even links to his photograph. He looks approximately like this: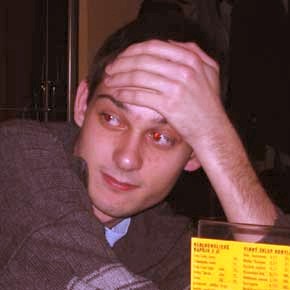 Sure, they are "famous". For example, they know about private property where using cameras is forbidden, they invite everyone to "go there and take pictures as a happening", they go there, take pictures for as long as it takes for them to be detained by the security, and then they appear on TV in "Internet journalists brutally attacked for no reason" segment. To prove their point, they post images of their sexy knees online.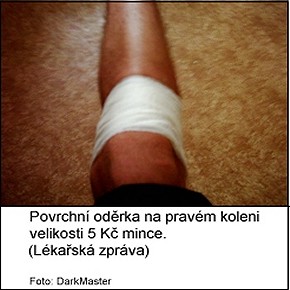 I do lots of stuff in my life. And if I ever end up being referred to as "Frantisek Fuka, the ([once] famous) blogger", that would really be a sad day in my life.