Yesterday, I was invited by my former girlfriend to see "something really amazing". What was it? It was a concert of a band called
Kalvados
, whose frontman looks exactly like me! At first, it didn't seem like it. But later it became evident that he not only resembles me when I was younger (he is only 30) but his various quirks, gestures and expressions are very similar to mine. And his name is "Frantisek"!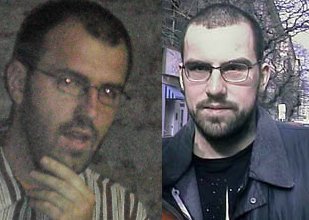 Left: Frantisek Kalvas' photo from yesterday. Right: Me when I was 30.
Here is short clip (AVI)
of Frantisek Kalvas in motion (really interesting if you ever saw me in motion).