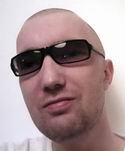 It seems that Radek Hulan (author of
"the most advanced and most widely used CMS in existence"
, according to his words) has at last demonstrated his unique communication skills
internationally
(and became internationally pwned for the first time in history, as far as I know). That means I no longer have to explain the "Hulan experience" to English-speaking readers - it's now sufficient to provide the link above and let everyone experience his "screeming" for himself.
Note that the technical stuff is rather irrelevant in this context (although
this one
is funny if you know what DIFF is), just read how he expresses himself.
P.S: Please note I have the full moral right to make my opinions about Mr. Hulan public because I wrote better CMS than him, I have higher IQ, more money and bigger penis, which I'll use to make beautiful love to his daughter.