Today, I discovered a link on
SomethingAwful.com
, pointing to Italian singer duo
Oliver Onions
(Guido and Maurizio DeAngelis) and their "unique" audio intro. Yes, it's awful, but what's more important: This exact song brings back touching memories for anyone in this country between the ages of 30 and 40. That's because "Dune Buggy" is a theme song from Bud Spencer/Terrence Hill comedy from 1974, "Altrimenti ci arrabiamo", aka "Watch Out, We're Mad", aka "Zwei wie Pech und Schwefel", aka "Jestli se rozzlobíme, budeme zlí" ("When the bad guys get mad, the good guys get mad and everything gets madder & madder & madder!").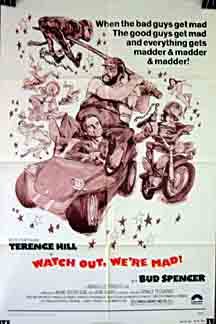 In 1970s Communist Czechoslovakia, we had no Bruce Lee or Chuck Norris. We had Terrence Hill with Bud Spencer (and
Michael Coby with Paul Smith
["Simon and Matteo"], their imitators). "Watch Out, We're Mad" was certainly their greatest work of art and everyone I knew saw it at least half a dozen times. The fact that I immediately recognized the song more than 20 years after I heard it for the last time is the testament to lasting quality of Italian entertainment.
I discovered
the complete lyrics online
and found them to be much less sophisticated than they appeared 25 years ago. In fact, back then, I had no idea they were in English (or, rather,
should sound like they were in English
).
Go here
for more audio mementos from this movie.
Also found this one on the
"Watch Out, We're Mad" IMDB board
:
"Would you happen to know if the choir song is available on any soundtrack releases? My son wants to use it for a gymnastics routine. It does not appear to be on any of the Bud Spencer/Terence Hill Greatest Hits releases (volumes 1-6). That's a lot of music to be released without that piece."
Listen to
"Il coro dei pompieri"
to hear what his son wants to use for his gymnastic routine...
Now, 2 hours later, I still cannot get that stupid song out of my head...