O.K., I still want to create some more games in my life. I have some ideas (more precisely "pre-ideas"). I don't have much time (more precisely, I don't have much time for things which won't bring me any money). But I want to try.
I have tried many, many, many programming languages, libraries and IDEs. However obscure they were, I at least TRIED them. Unfortunately, the languages that seemed most elegant and promising to me (namely
Smalltalk
and
Eiffel
) are actually used by so few people that I am basically unable to do anything more complex in them. Please note the use of "I am". The fact is that I PERSONALLY am unable to devote time to "grokking" the concepts that are undocumented and/or badly implemented and the respective user bases are so small, it's matter of pure luck how soon your questions are answered in mailing lists/newsgroups. Again note that I PERSONALLY am unable to work in this way. When I have three hours in a week to devote to my hobby, it's simply unacceptable for me to stop working after one hour, post a question to forum, and then wait several days for an answer.
Note that I am in no way bitching about the lack of support for these (and other languages). I think that both Smalltalk and Eiffel (more precisely: their free implementations) are great concepts and the fact that their user base is so small is a sad testament to the current status quo.
Speaking about status quo: Unless I will be paid very large sums of money, I will never voluntarily program in C/C++ or Java. It's out of question for me to develop my pet fun free project in these languages (with enormous user bases) which I consider aberrations. I know, I know, it's not a wise business decision or a wise decision at all - I am not necessarily businessman or wise person. I simply did not see any semblance of FUN in these languages. That doesn't mean I think you are stupid if you use them.
So, during my attempts to to strike balance between "language beauty" and "sufficiently large user base" factors (which seem to be mutually exclusive), I settled on
Ruby
which seems to me like a cross between Python and Smalltalk.
Now we are finally getting to the point...
With the language choice hopefully solved, I had to start thinking about the UI. First of all, the game will consist of text and simple (VERY SIMPLE) graphics (which will be put mostly to informative use - arrows, icons, simple tile-based diagrams). That's the necessary choice because I am not more of an artist today than I was 20 years ago: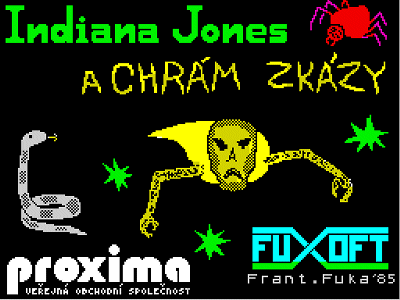 (Hahahahaha!)
Secondly, the game will contain lots of text. In Czech. Everything is developed in UNICODE, thus the UI has to support it. (Surprising number of widely-used libraries don't.)
The game will be controlled mostly by clicking and "mousing over" (with text boxes popping up). There will be keyboard shortcuts and there will be some SIMPLE real-time interaction (press the required sequence of keys in the required time etc...). In any case, 99% of it will NOT BE REAL-TIME. Also, I think I don't need any sound, although some MOD/MP3 playing routines would be nice.
Now, another "problem" is that I am currently using Linux (Debian) and I am booting into Widows only once or twice each month, when I absolutely need to use
FL Studio
or other applications which have no Linux equivalents (there's much less of them than I initially thought, I am happy to report).
This means another problem: I am developing the game under Linux. (Using only free software.) Of course I am not ENTIRELY stupid and I want the finished game to be available to Windows users. However, I don't want to spend much time converting it. Or, rather, I don't want to spend almost ANY time converting it to Windows / other platforms. That means many supposedly "cross-platform" libraries like TK or SDL are also out of question. Furthermore, I need clear instructions for average non-stupid person to download required stuff and run my Linux game under Windows.
All of this led me to conclusion that might seem absurd at first, but the more I think about it the more sense it makes. I will use Firefox as the UI!
Now, think about it: Almost everyone either has installed or is able to install Firefox. Almost everyone is able to download and install Ruby (even the Mac guys, I think). The game itself will run its own simple webserver (
Webrick
is included in the default Ruby installation) which will be more than enough because it will only run locally and serve the single local player. There is no problem with Czech text and simple graphics in HTML. When I see the UIs at gmail.com or maps.google.com, I am pretty sure I can create pop-up infoboxes and keyboard interactivity exactly as I want. I think I won't even need to use
AJAX
but it brings even more interesting possibilities to the table.
Of course, I know most of the people would prefer single clickable .EXE file. Well, tough luck.
Anyway, all of this does not mean I will ever finish anything, of course. But it makes me feel warm and fuzzy to think about it.