This might seem like a joke but it's really true. While in the bookstore, I saw nicely illustrated children's book "Little Red Riding Hood". I picked it up nostalgically and flicked through the pages (less than 20 in total) to be shocked. The whole plot was "slightly changed": No one gets eaten at all and, in the end, grandmother and Little Red are discovered hiding in the closet! What the hell is that? I don't want this crap for my (future) children. I want blood and freudian symbolism!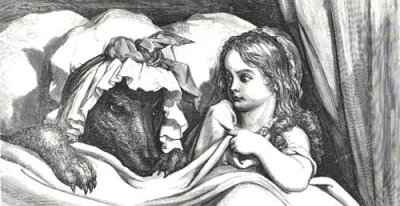 To calm myself, I immediately had to visit
SurLaLune fairy tales
page, read the original version(s) and excellent analysis of this and other fairy tales. Bring back Brothers Grimm and Andersen!