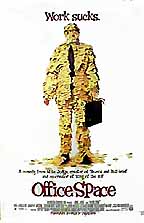 I noticed that Special Edition DVD of "Office Space"
was released
. "Office Space" is one of the truly great comedies. It's written and directed by Mike Judge, the creator of "Beavis & Butthead" (who BTW also stars as Donnagon Giggles in the "Spy Kids" movies) but the humor is very different and very clever. The movie is about guy who is stressed out from his IT job, gets hypnotized to relieve the stress and - by an accident - stays "permanenty cool", not giving a shit about his job (arriving late, playing Tetris, not pretending that he's actually working, etc...). The are several scenes that are timeless classics (mutilation of the Xerox machine, talk about prison rape, very specific way of saying "Yeah"). See it NOW if you didn't already.
"Office Space" was never theatrically released in the Czech Republic. It was briefly available on video several years ago, under the supergay Czech title "Malery pana Sikuly" ("The Misadventures of Mr. Clever") - what the hell is that title supposed to mean?!?! And the tagline "Work sucks" was translated as "Work inhales" or something clever like that...