This CNN story
about cleared "suspected terrorist" was originally accompanied by this great photo: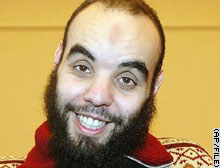 What do you think? Could someone so cheerful and good-natured be able to harm a fly (or some skyscrapers)? His warm smile brings happiness to my heart.
However, about 30 minutes later, the photo was replaced by this one: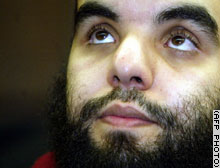 Shame on you, CNN!
BTW, what's with all the "suspected terrorist" crap (with "suspected" occasionally being dropped)? What happened to "innocent until proven guilty"? Is it OK to call George W. Bush "suspected dog rapist" because I suspect him of this?