I was just thinking about buying a new wristwatch because I am not happy about Orient watch I bought last time. I bought really simple and rather elegant analog mechanical watch with no fancy functions. However, I found out I have a real problem with its precision. It drifts by about 1 minute each week. I guess this is normal with mechanical watches (this was not an
expensive
piece of jewelry).
However, that's why I decided to go for something really fancy this time. First I thought about radio-controlled watch, then about GPS watch. I wanted some "bizarre digital technology", not necessarily expensive, but not looking like $20 shit.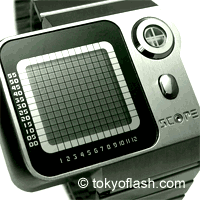 But then I discovered
TokyoFlash.com
which sells dozens of ABSOLUTELY BIZARRE, unique and totally unpractical digital watches. Reading the correct time on some of them requires rather complex math operations.
If you order stuff for more than $85, the shipping is free
worldwide
. And if you
discover the special code
, you can have $16 discount (I did).