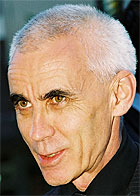 Famous movie director Lee Tamahori (Once Were Warriors, The Edge, Die Another Day, XXX: State of the Union) was arrested last month for
agreeing to engage in an act of prostitution and unlawfully loitering
on Hollywood's Santa Monica Boulevard. He allegedly
sought sex with an undercover policeman while wearing women's clothes
.
However, after reading
the story
, I don't quite get it. Who was supposed to be giving the oral sex to who? Who was supposed to be paying for it? Is it "loitering" even when the receiver swallows? Or even: Was the "undercover policeman" male or female?
Questions, questions...
I wonder how long it will be before Tamahori's
Next
Hollywood project will be released... (The previous sentence is sophisticated movie industry pun)
UPDATE:
According to IMDB News, Tamahori, wearing womens' clothes, entered the car of undercover police officer and "offered to perform oral sex act for money". I am not quite sure what he hoped to achieve. How much would YOU pay for being fellated by the man shown above, dressed as a woman?!?!