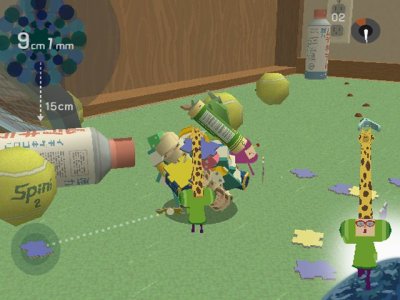 "We Love Katamari" game for PlayStation 2 was released in Europe at last. Actually a sequel to "Katamari Damacy" (which was never released in Europe), this is totally bizarre game about Cosmic Prince (with hammer-shaped head, occassionally with giraffe on it) who is rolling the sticky ball across the Earth, rolling up everything (including living things) in order to make the biggest Katamaris and create new planets from them (which are then rolled together and thrown into the Sun). In one of the levels, you start with 1 meter ball (rolling up eggs, frogs etc.) and have to reach the size of 1 kilometer (rolling up whales, skyscrapers, clouds and small islands)!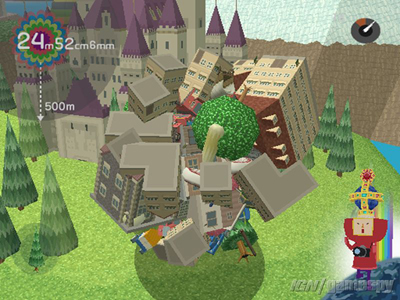 Apart from being 110% original it also features psychedelic art direction and soundtrack, plus off-the-wall Japanese humor. The
Official Site
is weird but the game itself is much weirder.
It also has the most beautiful game manual I've ever seen, in which there are no screenshots bud hand paintings looking like screenshots.
UPDATE:
Read the comments for game mechanics explanation.